Summer shutter sale by Villa is a great opportunity to buy shutters and beat the heat.
As residents of Corona, my wife and I are all to familiar with how hot it gets in our lovely city.  As window covering experts, we have all the best heat blocking products available.  We have of course our beautiful Onyx Wood Plantation Shutters.  They really block out the Sun and keep our house cool.  Our master Bedroom faces west and the upstairs doesn't get hot like it used to.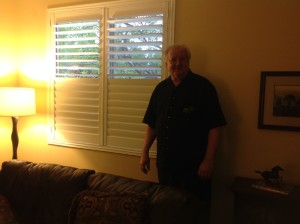 We also have Norman Solar Shades on our Patio Door (pictured below).  These solar screens block heat transfer into our home, are quite good looking and allow us to view thru to our backyard garden and to keep an eye on our dog Bailey
.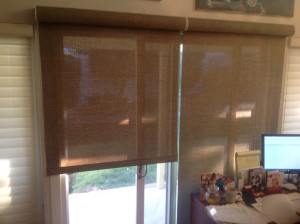 Our Green River Business Network allows us to offer you Energy Efficient Vinyl Windows and Doors.  These beautiful windows, combined with shutters and solar screens, maximize our house's energy efficiency.  The windows have LoE3, which stands for Low Emmisivity,   This is a glazing on your glass that blocks heat transfer.  And Argon Gas assures a barrier to the outside temperature.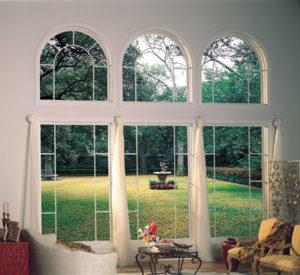 Our Network also sells and installs Solar Panels.  Our house has 14 panels which create enough electricity to totally eliminate our SCE bill.  We took advantage of the 30 % Tax Credit.   Last April the final $4500 we owed in taxes, instead went to the cost of the panels, not the Feds!  Our credit union loan is the approximate payment of our SCE bill.  In seven years we will own our system and have no solar bill and no SCE bill for the rest of our lives, how about that?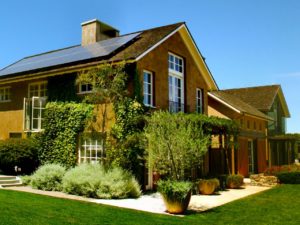 Summer Shutter Sale
Getting back to our summer shutter sale.  We are offering starting July 1st our Onyx Premium Plantation Shutters for only $16.50 per Square Foot.   And installation is  for only $2.00 SQ FT, not $3.50- $6.00 which is very common in Orange County.  This a great deal!  And we are offering FREE TEMPORARY SHADES, these will hold you over while you are waing for you New Shutters.
Make an appointment today and let's get started converting your home into an energy efficient home.  You will save money on your energy bills and make your home more comfortable.
Thank You.
Drew Lowery,   Cell  951-833-3577