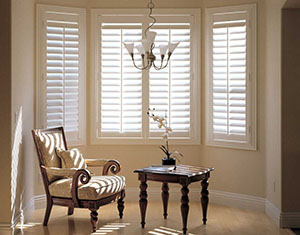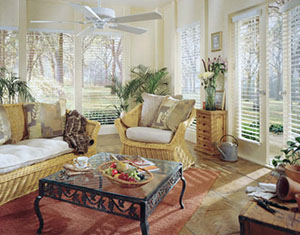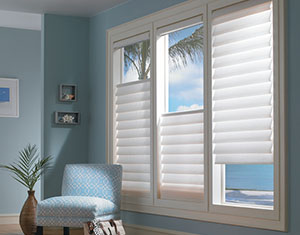 Villa Blind and Shutter

 
 "Your neighbor in the  Sun Lakes Country Club"
Plantation window shutters are Villa's specialty.  We measure, design and consult, order and install quality  Shutters, blinds, shades and Window Treatments for your home or office. 
No job is to small, we will be here for you.  
Free design consultations and measures in Sun Lakes Community.  Relax and Shop-At-Home with our specialists!
Plantation window shutters are Villa's specialty.   We are Corona and Banning's number one shutter dealer and installer for nearly 20 years and are  committed to the continual pursuit  of excellence in design, manufacturing, service, and innovation.  A staff with extensive experience in shutter production, field installation, customer service, and project management equips Villa to continue growing for the next twenty years and beyond.  Villa is standing by to provide you with the very best in shutters, blinds and shades.

As you start to shop and learn all about shutters you will soon realize shutters are made of two or three materials, vary greatly in quality and are produced for our market both in the U.S and abroad.  These differences will produce a wide range of price quotes, which will make your decision on buying shutters a bit more difficult.
Villa Designers have the experience to recommend the right shutter and design that fits your home and your choices along the way.  We call this a shutter design process.
Primarily you will choose between Basswood and Hybrid materials.

Frames to best fit your window openings.

Standard or Hidden Tilt controls.

American or Chinese Made.

Whites or Stains
Basswood Shutters by Onyx are beautiful and elegant. All natural woods show beautiful grain, have fantastic staining properties, and high resistance to warping.
Basswood Shutters portray a solid barrier and offer great privacy. Many different colors are available to match any style of home or office. Lightweight woods also boast superb strength and provide a long-lasting, affordable solution for natural window coverings. Learn More…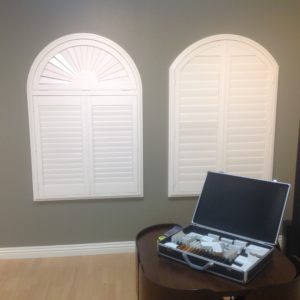 Villa's  Hybrid Shutter by Norman Shutters employs lead-free UV inhibitors, does not release any volatile organic compounds, and protects against color fading and yellowing. A patented polypropylene coating resists staining to ensure long-term performance in a variety of environments. Hybrid Shutters are the natural choice for your windows.  Learn More
Window Treatment products that Villa provides, along with Villa's Designers expertise, allow homeowners the ability to create their own beautiful window treatments.
Visit Full Draperies Photo Gallery, Horizon Natural Woven Shades, Horizons Fabric Roman Shades,  Premium Top Treatments, Roller Shades
        
Skandia has on-line color swatches for many of it's product's, which makes it easy to call us and tell us exactly what you'd like to get a price on.  If you measure we can have it shipped directly to you, allowing us to save time and save you money as well.
"We had plantation window shutters installed on all the windows of our condo yesterday and we couldn't be happier. They look great. The construction and the mechanism are very solid. The sales and measurement team were great. Installation of 18 windows and doors took less than 5 hours and was very professional. We had a French door and some kitchen windows that required special treatment but the designs they came up with fit perfectly. We can't recommend Villa Shutters highly enough."  See More Reviews
Designer Tips 
We are proud to service most of Southern California  with offices in Corona and Banning.