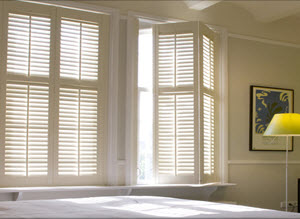 Hybrid Shutters from Norman Window Fashions are the people's choice for quality, warranty and durability.  Across the United States, the Woodlore Shutter is the best selling  shutter.
Our Hybrid Shutter's EcoSmart™ Engineering employs lead-free UV inhibitors , does not release any volatile organic compounds, and protects against color fading and yellowing. A patented polypropylene coating resists staining to ensure long-term performance in a variety of environments. Hybrid Shutters are the natural choice for your windows.  Learn More…
Features
Better consistency and durability than a regular wood shutter
Reinforced engineered wood stiles provide an intense level of durability and structural integrity
Stainless steel staples resist corrosion and withstand extreme heat
Better than vinyl and PVC shutters and can withstand even the highest desert temperatures
Patented polypropylene coating makes its surface extremely durable and robust
NORMAN SHUTTERS
New for 2015
Bi-fold 180 Shutter from Norman

Recent Job of the Week Installation featuring our Hybrid Shutter by Norman
Want to learn more about Hybrid Shutters?
Call Villa today toll-free at (951) 847-7708, or click here to schedule an appointment online. One of our professional designers will bring samples of our Hybrid Shutters right to your home, and help you decide if they are the right look and fit for your needs.
Norman-exclusive Features in Sussex®
NormanTeak™: After years of research and development in forestry, our Norman-farmed hardwood is ready. Our top-of-the-line hardwood is not only dimensionally stable, stronger and finely grained, it is eco-friendly.
Proprietary Manufacturing Processes:
Sussex® materials are hand sanded and painted/stained multiple times, resulting in a super-premium, translucent finish.
Prescription Wood Conditioning™: Moisture levels throughout the world are different. Our curing and drying processes match the wood's moisture content to the region in which they will be installed, ensuring the wood's long term structural integrity.
Explore other

Norman® quality features.
Related Products:
Looking for another option besides hybrid shutters? You can take a look at our Solid Vinyl Shutters
Interested in Shades Gallery?