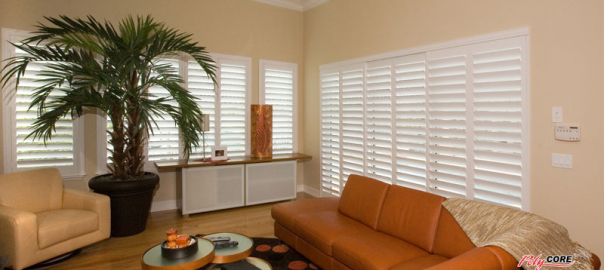 Villa offers plantation shutters made from wood, solid vinyl  shutters and hybrid material.  We bring all the shutters samples to your kitchen table, just like show and tell from Kindergarden.
Villa's Solid Vinyl  Shutter is the world's only solid synthetic shutter with a co-extruded aluminum core. Polycore shutters have a baked on waterborne paint, and are both fire retardant and moisture resistant. In addition to offering a high insulation value against the heat and cold, they are easy to clean and maintain.
ALUMINUM EXTRUSION TECHNOLOGY
Solid Vinyl shutters took  several years of research and development.   Villa's  Shutters successfully mastered the fine art of co-extrusion, combining PVC and an aluminum core. Today we are the only solid synthetic company that is vertically intergrated, whereas we extrude, paint, fabricate, and distribute our Polycore shutter. All of our rails, stiles, and louvers are reinforced with an aluminum core. In the fabrication process we screw the rail and stile together with two 3/16" X 3" self tapping screws in each corner of the panels. These corners prevent the panels from racking, thus creating the strongest panels in the industry today. The aluminum reinforced louvers prevent sagging in wider panels, where Polycore can reach 36" in width.
Want to find out more about Vinyl Shutters?
Call Villa today toll-free at (951) 847-7708, or click here to schedule an appointment online. One of our professional designers will bring samples of our Basswood Shutters right to your home, and help you decide if they are the right look and fit for your needs.
Related Products:
Solid vinyl shutters are an amazing product, but if you are looking for the best quality hardwood shutters, made in America, take a look at the quality of O'Hair Shutters.  Interested in Shades Gallery