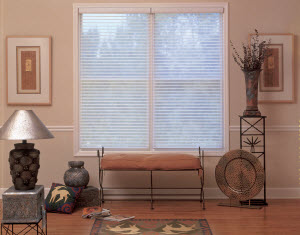 Silhouette Shades combine the elegant softness of a sheer with the light control of a blind, giving you the ability to transform light into gentle, diffused beauty.
Silhouette Shades will allow a substantial amount of light to pass through. If you want to have sheer shades in your bedroom or bathroom, you may want to consider adding drapes or curtains for more warmth, light control, and privacy. For living rooms or dining rooms where the level of privacy required is much less, sheer shades may be fine on their own.
Our custom Silhouette Shades are made to fit the measurements of your windows so they fit properly and work much better. The superior manufacturing processes and premium materials used help extend their lifespan, ensuring you a top quality product that will complement your other home furnishings. Bottom line: our high quality, custom products are a smart investment for your home.
Features
Vanes tilt from fully opened to fully closed to control the right amount of light and privacy
Available in a variety of fabrics from semi-sheer to light-dimming
Choose from a wide variety of colors and textures for numerous design possibilities
Provides superior UV protection even when the fabric vanes are tilted open
Remote control and hard-wired lifting options available
Looking for Silhouette Shades for your home?
Call Villa today toll-free at (951) 847-7708, or click here to schedule an appointment online.  One of our professional designers will bring samples of our Silhouette Shades right to your home, and help you decide if they are the right look and fit for your needs.