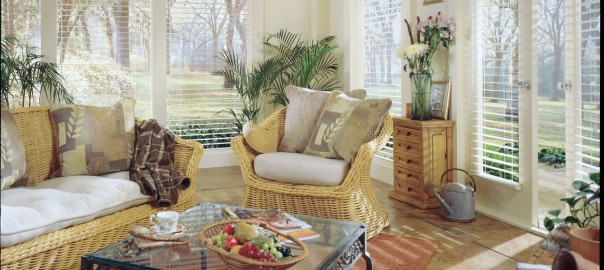 Blinds  provide excellent light control and privacy, and come in a wide range of colors, textures, and materials.  In fact, there are so many styles available that the choice might feel overwhelming. But, not to worry — that's where Villa's expertise comes in to help guide you.
Practical and fashionable, Verticals are the most versatile of all window treatments. Paired with one of three valance options, you have an ideal window covering for any room in your home. Verticals are perfect for large or small windows, French doors and patio doors. Learn more . . .
 
Wood Blinds are the all-natural solution to beautiful window coverings. Affordable alternatives to shutters, wood blinds can be stained to match nearly any decor. Beautiful grain wood is selected for it's ability to withstand the test of time. Learn more . . .
Faux Woods make everyday use easy and care free — lighter weight than traditional wood blinds, making them a cinch to operate even on large windows. Faux Wood is the perfect choice to withstand the elements, including light, heat, moisture, and salty air.
Learn more . . .