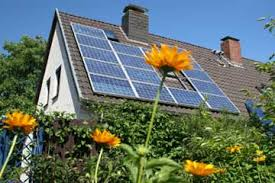 VILLA HOME IMPROVEMENTS
To Sun Lakes Residents: We now offer Solar thru our Partner Penguin Home Solutions
Greetings!     My name is Drew Lowery and I am a resident  here in Sun Lakes Country Club! And as your neighbor, I would like to help you understand the benefits of going solar.  I have found a great solar installation  company in Penguin Home Solutions.
They have helped many of us in Sun Lakes already GO SOLAR and know our community and the City of Banning.   I can help you get a  very competitive price on solar panels and installation.
Question 1    How long does it take to get solar installed, I've heard Banning and the Dealers go back and forth.
Answer 1       Fortunately, my Installation Contractor and Partner  Penguin Home Solution will make this process go smoothly. 
Question 2    How many panels do you think I will need for my house, I know everybody seems to get different size systems.
Answer 2       I personally will analyze your past 12 month  electric bills useage and design a system to off-set your electric bill 100%.  You can see how it's done from your kitchen table, very cool.
Question 3  How much will I save over just staying with Banning Electric?  I might be too old to recoup any savings,
Answer 3     The way I explain it will clear up your break even point and determine if solar is right for you or not.  Savings are huge most anyway you look at it.
Question 4  Should I buy or lease?  And whats the best term and payment plan?
Answer 4    Buying the Solar Panel System offers the best possible savings and has no complications when the house is sold.    I see people choosing two main finance choices.
One is paying cash  or half down and trying to pay it off in 5 to 6 years.  then they have no electric bills or solar payments going into their golden years.  That is how I'm going Solar.
Or many prefer to go no cash down and simply replace their electric bill with a solar payment, which will be a lot less and it locks in the payment over the next twenty years.
I know you have more questions, so why not invite me over for coffee and I will present you with a Proposal in about 30 minutes.  I like my coffee with cream and sugar!

Call Drew Lowery       951-847-7708
More Information:
With over 30 years combined experience, we help make your home more efficient. Improving the efficiency of your home allows for even further savings alongside solar energy installments.
​We aim to make your transition to solar simple. Navigating permitting and inspection, we make the process easy and allow you to make the best decision for your home based on your energy needs, space, and budget.