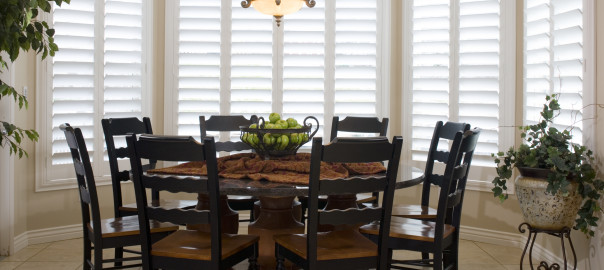 Reading Reviews and Testimonials  are a great way to get a feel for what your experience will be like.  You might say, well of course they won't post the bad reviews, but frankly we do not have any.  We pride ourselves on fixing the issues that might have occured.  We are not perfect, but we give you 100% effort.
Reviews and Testimonials
Video Testimonial
Reviews taken from Yelp, Customer Lobby, Facebook, Angie's List
Ella O.
Los Angeles, CA
03/19/2014
High quality service
I love the blinds that I got from Villa Blind and Shutter. I don't have to do a whole lot of cleaning for them and sometimes I can leave them halfway open on the top and leave the bottom shut. The installation for the blinds was very efficient and smooth. I was happy about the prices after shopping around and seeing that they were more reasonably priced. After loving the blinds that I got for my living and dining room, I decided to purchase more from Villa Blind and Shutter for my front bedroom. I'd strongly recommend them!
Paulette M.
Corona, CA
03/06/2014
Wonderful service!
Villa Blind and Shutter did shutters for me at my Orange County house, blinds at the Fullerton house. They were reasonable, thorough in explaining things to me, and the quality is fantastic. I recommend them very highly. Everyone should use them.
Report an Issue
Eric & Candace C.
Corona, CA
02/21/2014
Very little hassle, honest, competitive and customer service is great
From the get-go Drew was very helpful. He came out for a couple weekends going over some different options. He showed me and my wife a lot of samples and his follow ups were spot on.
Report an Issue
Wendy N.
Oceanside, CA
02/15/2014
Great experience, service, and products!
If you're looking for blinds and shutters this is definitely the best company. We recently purchased blinds for all windows. Villa Blind & Shutter came back to us with the lowest price on excellent quality products. My overall experience from selection to delivery was fantastic. The sales team was knowledgeable and helpful. The blinds and shutters are beautiful and the installation was fast and very professional. I highly recommend Villa Blind and Shutter if you are looking for blinds or shutters for your home.
Christopher & Nicole M.
Corona, CA
02/14/2014
Great service
We ordered some blinds from Villa Blind and they turned out better than expected. Just the way they flow with the room is amazing. The shutters are fantastic, they were installed nicely and overall the guys did a fantastic job.
Diane S.
Corona, CA
02/03/2014
Really good
Villa Blind and Shutter put blinds in my whole house and were prompt and fast. I did have one issue but they called back and fixed it right away.
David R.
Claremont, CA
11/29/2013
Great service!
My designer was super-friendly and extremely knowledgeable about all kinds of shutters and window fashions. It's hard to find people who take real pride in their work these days, but I was pleasantly surprised how much they really care about doing quality work. If you need shutters or blinds for your home, give Villa a call — you won't be disappointed!
Lisa G.
Lake Forest , CA
11/26/2013
Great company and product
I used Villa Blind an Shutter to replace every blind in my rental property. The owner came out promptly to measure and give me a quote. He brought samples and pictures plus he had a website on his IPad where I could view his other work! The blinds came in a few days and were installed in minutes. They look very high end, work great and were very inexpensive! I would recommend this company to my friends and family. Thank you, Villa Blind and Shutter for getting my rental back on the market so quick.
Lisa C.
Perris, CA
11/26/2013
Always been very friendly
Villa Blind and Shutter came out and did shutters throughout my home as well as some French door covers. The guy who came out to do the work helped me understand the process and different types of shutters. When the manufacturer came out, I thought that was very efficient.
One of my dogs like to jump on the door covers but Villa is very good to respond to me, come out, and fix the doors when they break. They're quick to respond to my requests and treat me the same now as when I first bought their products.
Rhonda S.
Seal Beach, CA
11/21/2013
You can have no fear with Villa Blind and Shutter!
I used Villa Blind and Shutter to provide shutters for all of the rooms in my house. The selection they had to choose from was good. I've been receiving tons of compliments since the installation.
From the time they came to my house to provide me with an estimate to the delivery to the installation, the whole experience was fabulous. The installers were very tidy and courteous. There were a lot of rooms they had to work on; they got it done in 4-5 hours. The final price matched their estimate exactly. They were so easy to deal with, and it was just a great overall experience.
You can have no fear when you work with Villa Blind and Shutter. You'll be dealing with a trustworthy company. Everything they promise will be accurate!
Alan M.
Claremont, CA
11/18/2013
Great design help
Villa helped me pick out style and colors that turned out perfect. The installation was on time and professional. I rate Villa Blinds value as a FIVE STAR
Nancy G.
Lake Forest, CA
11/18/2013
Very happy with the product and service
It's fine, very happy with my shutters. Best prices.
Interested to Learn More About Us?
See Gallery of Horizons Window Fashions