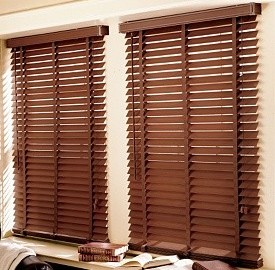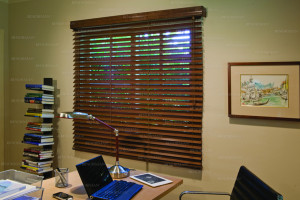 Villa's Wood Blinds by Norman are the all-natural solution to beautiful window coverings.  Affordable alternatives to shutters, wood blinds can be stained to match nearly any decor. Beautiful grain wood is selected for it's ability to withstand the test of time.
For whatever your inspiration, Villa's Wood Blinds give you a customized solution, allowing you to exercise your sophistication in a rainbow of paints, stains, valance styles, and designer tapes. Go bold with a Contempo valance and zebra patterned tape, or opt for understated refinement with a dark wood stain.
From the headrail and slats, to the hardware and bottom rail – no other wood blind packs as much technology, quality and attention to safety as Villa's Wood Blinds by Norman.
Features
Natural toughness: slats resist denting and scratching for the long haul
Patented SmartPrivacy™: routeless feature offers minimal light leakage, smoother operation and tighter closure.
Patented Insta-Lock™: Locks the blind at any position and at any angle, effortlessly without frustrating tugging – even on corner windows.
Slats won't shift or slide out of the blind
Specially engineered components that make tilting and raising/lowering a breeze
Patented cord release device for child and pet safety
All materials are lead free, V.O.C. free and without any harmful chemicals
Thinking about Wood Blinds for your Home?
Call Villa today toll-free at (951) 847-7708, or click here to schedule an appointment online.  One of our professional designers will bring samples of our best Wood Blinds right to your home, and help you decide if they are the right look and fit for your needs.