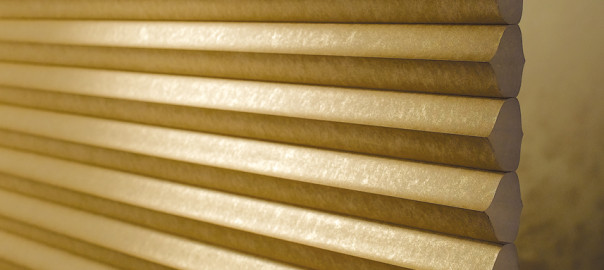 Honeycomb Shades offer Luscious fabrics folded into delicate pleats not only define a softer side of beauty for the interior decor, but provide an energy efficient solution for the home as well.  The clean creases of the fabric form a cell that aid in trapping air to insulate the interior.  Even with the fabric's softness, the shade is as durable and efficient as it is alluring, bringing perfection to any interior design
Not all honeycomb shades are created equal –– Villa's Honeycomb Shades by Norman are the perfect example comfort, function, and style — seamlessly integrated to exceed your highest expectations and provide unparalleled value.  Many features and options help create a home environment that is intimately yours while assuring distinction, energy efficiency, and superior value, including:
Looking for Cell Shades in Corona?
 Features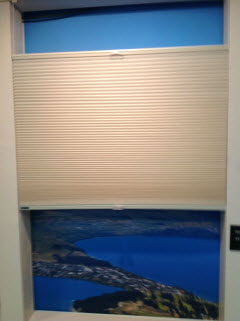 SmartFit™ is a new and innovative feature engineered to provide flexibility in light and privacy control as top-down bottom-up, while eliminating the unsightly cords coming down in the center of the shade. Perfect for French doors, tilt-in windows of up to 15 degree or just about any windows in your home, the SmartFit™ design allows the shade to be mounted with a tight fit to minimize light leakage and maximize privacy. Safe, aesthetically-pleasing and easy to operate, SmartFit™ is a versatile and modern solution to meet your unique needs.
UltraCel™ embossed fabrics give the shades crisper pleats and remarkable strength. UltraCel™offers the widest color selection to provide limitless décor schemes. Look no further than UltraCel™ for unmatched beauty and quality.
SoftCel™ is technically advanced fabric that insures softness and dimensional stability. Durable and light, it also assures reliability and ease of operation. SoftCel™ provides versatility and a contemporary feel, perfect for any room. These qualities make SoftCel™ the ideal choice when seeking functionality and value.
SmartRise™ Cordless System: Engineered with child and pet safety in mind, the new SmartRise™ cordless system is both modern and functional. To operate, simply lower or raise and stop at any position to lock your shade in place. When the shade is fully raised, hardware is completely concealed for a sleek and contemporary look. Can be mounted inside or outside the window opening, with an easy and adjustable tension system to ensure consistent and long-term shade performance.
With rich materials, and an even richer history, our Portrait™ Honeycomb Shades feature award-winning designs, exclusive options, and industry leading construction – for no matter what the elements have in store.

More cordless: Look to SmartFit™, cordless Day & Night Shades, cordless vertical shades, SmartRise™, and our iconic cordless top-down bottom-up

300 fabric options: 3/8″ single cell, 3/8″ double cell, and 3/4″ single cell for a fresh streamlined look: from sheer to light-filtering, semi-opaque to room darkening

Energy efficient: High R-value material and construction promotes energy efficiency, and provides a luxurious touch, with low maintenance

A dozen lift systems: Offers smooth, dependable adjustment for whatever the need and decor, with or without cords, from the top, bottom, or both

Special fabric options: Atmospheric sheer fabrics, NFPA 701 compliant flame resistant fabrics, and designer prints for nature-inspired to contemporary looks

Safer solutions including 100% cord-free systems to reduce child/pet entanglement risk

Made for every window: For windows up to 12 ft wide. Plus skylights, French doors, sidelights and vertical solutions for patio doors

Heavy duty hardware: Portrait™ features a sleeker and stronger headrail that's light yet extremely sturdy and won't bend or twist
Portrait Honeycomb Shades are now Motorized
Want to find out more about Honeycomb Shades?
Call Villa today toll-free at (951) 847-7708, or click here to schedule an appointment online.  One of our professional designers will bring samples of our Honeycomb Shades right to your home, and help you decide if they are the right look and fit for your needs.