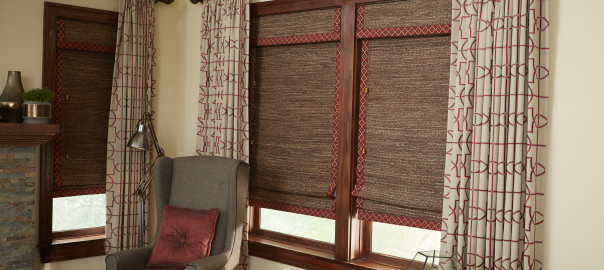 Natural  Woven  Shades add a warm, rich dimension to any room, whether they're hanging flat in the fully lowered position or raised, creating even, overlapping folds. Woven wood  shades are created from natural woods, reeds, bamboo and grasses and will age beautifully in your home.  Often called  Woven Wood Shades, the style options are similar to Roman Shades.  Valances are included, the 6 inch is considered standard.  Cordless shades are very popular, please see the video for more information.
Horizons Window Fashions
See the beautiful material/color swatches available.  You can get five samples mailed to you for free,  Call Villa today!  See them here.
Averte Natural Fold Shades
Now Horizons Window Fashions brings the high fashion weaves of Horizons Natural Shades to your  big windows and sliding glass doors! Combining Averté Natural Fold and Horizons Roman Shades in the same room gives perfect coordination.  The Averte operates with a gentle push on the guide rail.  Decorative knobs make split draws  Averte easy to open.     See the full Averte Gallery.
Want to find out more about Natural Woven Shades?
Call Villa today (951) 847-7708, or click here to schedule an appointment online.  One of our professional designers will bring samples of our Woven wood Shades right to your home, and help you decide if they are the right look and fit for your needs.