Interested in new  Window Coverings for your Corona home?
Let's start the conversation at square one.  Did you just buy this beautiful new house and have no window coverings at all?  That is pretty common, since Realtors generally remove blinds and shades because they are old or have broken parts.  You haven't moved in yet and are painting and putting in new flooring, right?
So first problem is you are not sure where the morning sun is coming in?  Sure it is from the East, but how disturbing could it be the bedrooms?  And how are the West facing family room windows when the Corona Summer is kicking in.  A lot of heat will be on those windows.  And finally, your new floor color is still undecided ….. how can you choose a color for the blinds.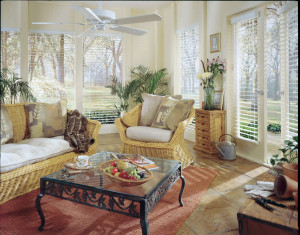 These are the issues to start with.  And now what products are going to make my house beautiful?  You had blinds before, but they are not what you want this time.  Are you considering shutters.  How will they best be installed, and what shutter issues might come up.
Is there a formal living room you want to make spectacular?  Maybe a full window treatment with Drapery Side panels, Roman Shades and a Top Treatment.
What should you do for the Bedrooms?  Want to make it a Room Darkening Shade?  And that Patio Door?  Is there a shade for a vertical application?
Villa Blind and Shutter's Designers have had this conversation with homeowners just like you for almost twenty years.  Let us help you to design the perfect Window Treatments.