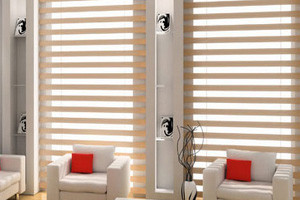 The Combi Shades (also called Transitional Shades), represents the latest in window fashion technology — combining the convenience and privacy of a shutter, with the ethereal subtlety of a shade.
Unlike roller shades, the Combi Shade puts you in control, making it easy to adjust the level of light and privacy for any interior.  With over 100 different color options, and a wide variety of fabrics, the Combi Shade is fully-customizable and will add a touch of sophistication to any room.  Whether you want a little more privacy, or need full black-out shades, the Combi Shade is right for you
If you haven't yet seen this clever shade in operation, please check out the following 1-minute video:
Thinking about Combi Shades for your home?
The colors available are bright and lend interest to your rooms interior decor.  This is a sheer type product, so it looks very fine, but is also very durable.
Call Villa today  at (951) 847-7708, or click here to schedule an appointment online.  One of our professional designers will bring samples right to your home, and help you decide if they are the right look and fit for your needs.