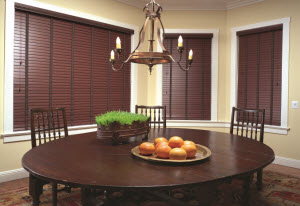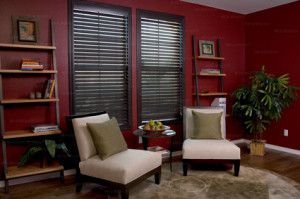 You wont' think Faux Wood – you'll think FANTASTIC!
If you're looking for an easy all-in-one solution that's easy to lift even on large windows, built tough and can block out intense UV rays and heat while ensuring maximum privacy, Villa's Faux Wood Blinds are the best choice for you.
Faux Wood Blinds can make everyday use easy and care free.  Made from lightweight and durable polymers, Faux Wood Blinds are lighter weight than traditional wood blinds,  making them a cinch to operate even on large windows.  The material is beautiful and long-lasting, and does not warp or yellow with age.  Faux Wood is the perfect choice to withstand the elements, including light, heat, moisture, and salty air.
Faux Wood Blind Features
Natural toughness: slats resist denting and scratching for the long haul
Patented SmartPrivacy™: routeless feature offers minimal light leakage, smoother operation and tighter closure.
Patented Insta-Lock™: Locks the blind at any position and at any angle, effortlessly without frustrating tugging – even on corner windows.
Slats won't shift or slide out of the blind
Specially engineered components that make tilting and raising/lowering a breeze
Patented cord release device for child and pet safety
All materials are lead free, V.O.C. free and without any harmful chemicals
Thinking about Faux Wood Blinds for your Home?
Call Villa today toll-free at (951) 847-7708, or click here to schedule an appointment online. One of our professional designers will bring samples of our best Faux Wood Blinds right to your home, and help you decide if they are the right look and fit for your needs.