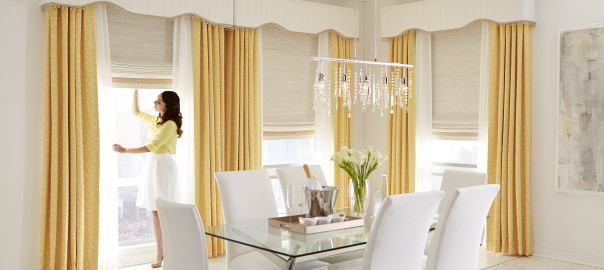 Window Treatments products that Villa provides, along with design expertise allow homeowners the ability to create their own beautiful window treatments.
Horizons Window Fashions has a beautiful photo gallery to get you started.  They offer pairing patterns and so many possibilities, with over 600 fabric and color swatches.  Swathes can be ordered at no charge, they are full size, and mailed next day delivery.    Please visit the Photo Galleries to see what is available from Villa.
Visit Full Draperies Photo Gallery, Horizon Natural Woven Shades, Horizons Fabric Roman Shades,  Premium Top Treatments, Roller Shades
Villa is proud to offer  Soft Treatments from Horizon  Window Fashions complete product line. See what they have to offer and ask for a Villa Interior Designer for a Free In-Home consultation. We will turn your window covering choices into full Window Treatments.
---
Horizon Soft Treatments soft Roman Shades, Twin shades, CordlessOne Controls, Twin Shades, Motorized Soft Shades, Draperies and Side Panels.  The collection also includes Top Treatments;  Upholstered Cornices and Valances as well as Accent Pillows.  Villa Designers have expertise to advice you on what we call Friendly Coordinate Suggestions.
Roman Shades are one of the most beautiful of all the window coverings available.  The choice of styles allow you to personalize the look and feel you desire.  The fabrics are luxurious.  And the color choices are unbelievable.  Shades Styles include Classic Roman, Hobbled Shades, Knife Pleat Shade, Ribbed Pleat Shade, Relaxed Shade, London Shade.
Shades of Ellegance;   The Roller shades from Horizon are not limited to Solar screen material like most Fabricators out there today.  They are fabrics attached to vinyl backing to give a true soft treatment look and feel.  This allows them to offer 300 patterns to choose from including interesting designs, textures and patterns.  They are available in  Clutch and Spring Roller Shades:  Cassette Roller Shades, Fascia Roller Shades, Roman Shades, Twin Shades, Elance Sliding Panels, (pictured below) Motorized Shades.  The Villa Designer will show you the choices, and you can have Free fabric swatches mailed to your doorstep.
Natural Woven Shades include Classic Roman shades constructed of natural reeds, grasses and bamboo.  These shades contribute to a relaxed environment, casual and inspiring.  They are available in Twin shades, Averte Natural Fold (shown below), Casual Woven Valance, Premium Top Treatments and Angled Top Shades.  See the Photo Gallery.
Decorative Hardware;  Fortunato Wood, Noveau Wood, Bellissima Metal, Essence Rod Collection, Finesse Rod Collection, Decorative Traverse Rods.
One of the easier and more cost-effective ways to give a room a whole new look includes adding new window treatments. But with so many types and styles of curtains, blinds and drapes to choose from, how can you find the ones that are best for your windows?
What makes shopping for new window treatments even more confusing is the myriad of unfamiliar terms used to describe and classify the different types and styles. (What is a cellular shade, anyway? What's the difference between a curtain and a drapery? And why is it important to know the depth of a rod pocket?)
Window  Treatments
See Premium Woven Top Treatment Page