Featuring Villa's Job of the Week Video
Design Ideas for Shutters
Good Morning from Villa Blinds Design Team. We are showing you these videos to let you see and understand your Design choices when ordering Plantation Shutters. You can choose between Painted or Stained, Materials, Frames, Louver Size and Tilt Control choices. I think that covers it!
Louver Size
Most people today really like the 3 1/2 inch Louvers for a great view through to the outside, the 2 1/2 has less and is also rather busy and its maybe becoming old fashioned. The 4 1/2 inch Louver is limited to rather large windows.
Frames
We recommend the Z frames because they are Inside Mounted and look flush to the wall, over the outside mounted frames like the traditional L or Decco frames, but this is really personal choice.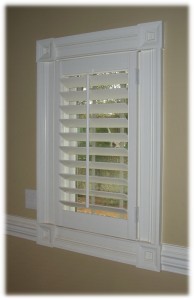 Material
The choice of Materials is difficult, most people prefer Basswood, especially when it doesn't cost more, however the Hybrid and Vinyl Shutters are a strong consideration for their inherit durability. Villa offers all three materials.
Tilt Contriol
We love the Hidden Tilt, it allows for enhanced view through, and we love the Split option as shown on this video.
Tustin Shutter Installation
Thank You!
The Villa Design Team