Norman roller shades are all the rage this summer in Corona.  Both residential and commercial properties are using these Roller Shades (also know as solar shades or solar screens) to reduce the sun's heat blasting thru your glass windows, thus keeping your home cooler and saving on air conditioning costs.  Corona is having a heat wave, aren't we?  between the traffic and the heat here in Corona, most people have had enough!  Well we can't help you on our freeway construction delays, but Villa  can help you by providing you with Norman Window Fashions Roller Shades.,
This past April Norman revamped their Fabric selections to over 300 choices, and divided them into four groups, so you can narrow it down easily.  The groups are;  Sheeer, Light Filtering, Designer Collection and Blackouts.  So your first choice is based on how much light you want to block out, and how much View Thru you like.
Villa Designers to the Rescue
Our Villa Designers will walk you throuugh 4 design  questions.  We have the experience to help you understand all the options Norman offers from light filtering, lift control options, Top Treatments and  a few more easy choices.
Show Me a Hand Sample
I know its already making you sweat, like finishing homework.  So I've posted a photo of a Villa Hand sample,  (pictured) of one of my favorite combinations of your choices, so here goes, I will describe this Norman Roller Shade for you.
  It features a Fabric from the Solar Shade Collection called Wave, with a 5% View through.  Its a true solar screen that blocks heat but allows you to see your mountain view.
Curved Fabric Valance,    Doesn't that look great.  Your other options are a Wood Valance or a Square Fabric  Valance.
Stainless Steel Beaded Chain  Your choice is white or  black in plastic or this beautiful stainless steel.  Your lift choices include Spring Rollers or Motorization.
Fabric wrapped Hem Bar!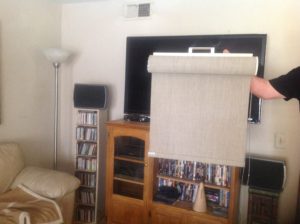 Here are a few shots of my Patio door with two Norman Roller Shades.