Wood shutters by O'Hair Shutters offer the  Panorama™ series with its spaciously distributed deep-profile louvers sets the trend in wide louver shutter styling. The 5 1/4″ louvers with their generous 5″ spacing provide a stunning view, offering a view ratio of 80%. The photo on right  features the Panorama series with a great view, use of divider rail, reinforced  tilt rod, all great for large windows.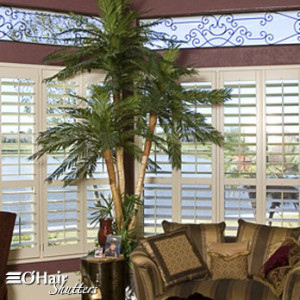 These are the most beautiful shutters on the market.  Special features are spelled out on the main page, but just to name a few, the sand brushed grain is exquisite. The Panorama™ wood shutter excels in large windows and all openings in which the command of direct light is a priority.
O'Hair Shutters are made in Texas.  Allow 5 weeks for delivery.  The warranty is the best in the industry, which is a true lifetime warranty that even cover repairs required if your dog destroys them.  On the O'Hair page, you can design your own shutter and view it.  You can input a size of your window, and then see it with the different louver spacing,  different panel configurations and more.  It's very useful in our in home presentations.
Also interested in Shades?  See this beautiful photo gallery.