Window Coverings is a broad term to describe a great many types of products, including Blinds, Shades and Shutters, that are used to Cover your windows.   But that's just the start of knowing enough  to choose the best products for your needs and budget.  So we want to educate you a little more about window coverings to get you started.
First ask yourself why do you feel you need to cover your windows.  Is it for privacy, block the light or heat, or purely to decorate your home's interior.   It is likely all three reasons may apply.  But which products are the best for each motive.
Blinds are the least expensive window covering, both the Horizontal Blinds and the Vertical blinds are about $100 on average at Villa Blinds.  Larger windows are a bit more, but the average kicks in, so a house with 17 windows will probably come out to $1700 or so, including tax and installation.  Our Norman Faux wood blinds are 2 1/2 inch slats with a lot of quality and innovative features.  Blinds allow for good privacy and light control and often in stains and color choices look great.
Shades are often the best choice when trying to block heat transfer, especially the Cell or Honeycomb shades.   We carry  Norman Pure -Safe Shades  with the Cordless feature and average price is $100.
Roller shades, or their sister the Solar shades are also used to block heat and decorate the interior nicely.
Roman Shades are best used for decorating your windows and your interior.  They are used a lot by Interior Decorators.  Combing shades with Top Treatments are now very popular, and now you can change your terminology to call window coverings Window Treatments.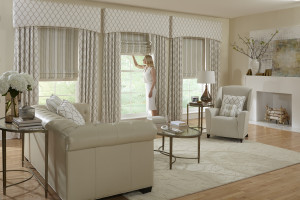 Shutters are the best look of any window covering.  They offer great blocking of heat transfer.  And are great for privacy and light control with their 3 1/2 Louvers.  Shutters are a great investment for your home because they are nailed to your home, they are usually kept in the home upon change of ownership