Wood or Hybrid shutters?   That is a common question asked by homeowners in the market for Plantation shutters.
So let's analyze the pros and cons here.  Wood has been used for hundreds of years and over the years the quality developed into a very  high quality product, was well respected for it's beauty and was the creation of fine craftsmen.  It reached a peak in costs around 1950's and was a very expensive window covering for homeowners with discerning tastes and fat wallets.
But I digress from my goal in helping my readers decide which material to use for their home in today's market.
Alternative materials have been developed to replace wood in many  products including windows, flooring, decks, and  fences to just name a few.    Vinyl windows have become so energy efficient that you almost do not see wood windows at all anymore.  And flooring has done the same with laminates and tile that look so much like a wood floor you can't tell the difference.  But shutters are neither an outdoor product like windows, nor a walked on product like a floor.
Wood shutters today  are still beautiful, natural and add value to your home.  The paint finish should be able to withstand fading, chipping and pealing .  To get this type of protection the paint should  have an polyurethane finish, which is like an oil based paint, not a water based paint.
Wood Shutters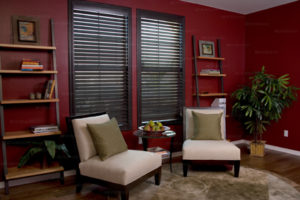 Wood is also the best choice  when you have either a 3 ft wide or 6′ wide window.  I recommend using a single panel for the 3 ft wide window , because the two panel has a vertical side of each panel  in the middle of your small window and blocks a lot of  view through.  The same for the 6′ wide window, do it with 2 panels, not 4 for the same reason.
The Hybrid shutters were developed for many reasons and have their place in today's market as a very good alternative to wood shutters.  These hybrids are made of hollow vinyl, solid vinyl, composite materials that blend vinyl and wood, and the true hybrid shutters that are constructed with a solid MDF core – real wood in an advanced state – for incredible density and strength. Made from the wood of rapid-growth trees, these shutters enable tree replenishment at an extremely accelerated rate.
In addition, Woodlore's UV inhibitors do not release any volatile organic compound and protects against color fading and yellowing. Our patented polypropylene coating resists staining to ensure long-term performance in a variety of environments. Woodlore is the natural choice of shutter for your windows.
Better consistency and durability than a regular wood shutter
Reinforced engineered wood stiles provide an intense level of durability and structural integrity
Stainless steel staples resist corrosion and withstand extreme heat
Better than vinyl and PVC shutters and can withstand even the highest desert temperatures
Patented polypropylene coating makes its surface extremely durable and robust